•• •

 What's New?
News 14-09

: You'll find hereunder the presentations of the DPA from our networkevening of 10 September

News 13-09

: Have a look at our Calendar and block your agenda for our next events: 22/10 - 05/11 - 14/11 - 17/12          Learn more about camera surveillance, the future strategy of the Belgian DPA, Microsoft tools and data protection (Office 365), and a privacy protective cloud

News 10-09

: Members, go to the "Document sharing" page (first log in). You will find nice Quick Reference Cards about data protection subjects - a useful tool!

News 10-08

: M. David Stevens, President of the DPA, confirmed his presence on our network evening of 5 November 2019
•• •

Next events
•• •

 Survey: GDPR implementation

The mini questionnaire (March 2019), held among the DPO-pro members shows that for almost 60% of the companies there are still important steps to take before being compliant with the GDPR.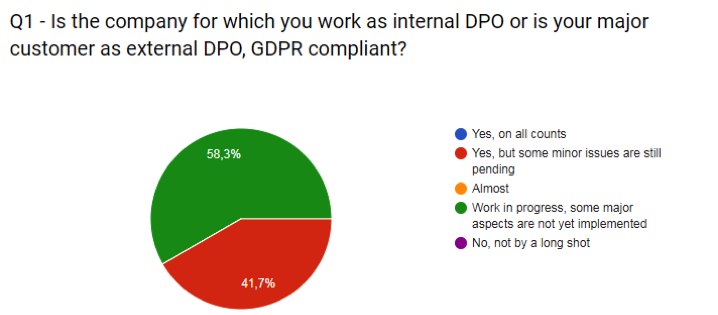 More results can be found in the exclusive DPO-Pro Members section of this website ("document sharing").
---