•• •

 Latest News
12 juin 2019: Public Consultation on direct marketing by the Belgian DPA
The DPA launches a public consultation on direct marketing to update its Recommandation n° 02/2013 of 30 January 2013 on direct marketing. You can participate anonymously via this link.
May 28, 2019: First sanction by the Belgian Data Protection Authority 
The APD-GBA has imposed an administrative fine of 2000 euros for abusive use of personal data in the framework of the election campaign. A little sanction,but an important message: controllers must take their responsibilities.  More information on the website of the Belgian DPA.
•• •

 Survey: GDPR implementation

The mini questionnaire (March 2019), held among the DPO-pro members shows that for almost 60% of the companies there are still important steps to take before being compliant with the GDPR.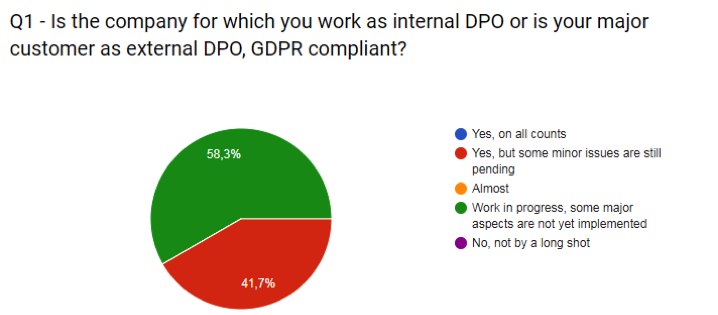 More results can be found in the exclusive DPO-Pro Members section of this website ("document sharing").
---
•• •

Next events

No Events